Certificates
This is a great way to give an unusual, yet fun and informative
gift. It's a delightful gift for a newborn baby, or for a thank you, birthdays, or a
unique wedding or anniversary present.
It seems everyone is curious about their life's path and this is a terrific way to introduce a friend or loved one to something they might never consider. (Gift certificates can always be transferred to someone else.)
You can order a gift certificate to see Susan West for $125 or $225. The recipient will contact me for the reading.
IMPORTANT: When you place your order, please include your name and address, and the name, address and phone number of the recipient so I can mail it directly to them. You can email susan with this information.
You can pay by credit card or check. To charge it on your Visa or MasterCard, leave the credit card info by phone 503.242.1214 or 800.630.2288. Include the number, expiration date, and the exact name on the card. If paying by check, mail it with the above information to 1730 SW Harbor Way #308, Portland, OR 97201.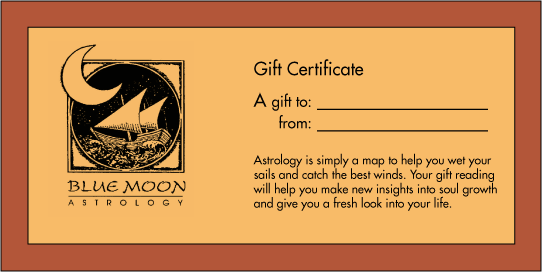 To schedule an appointment, email susan@bluemoonastrology.com or call 800.630.2288